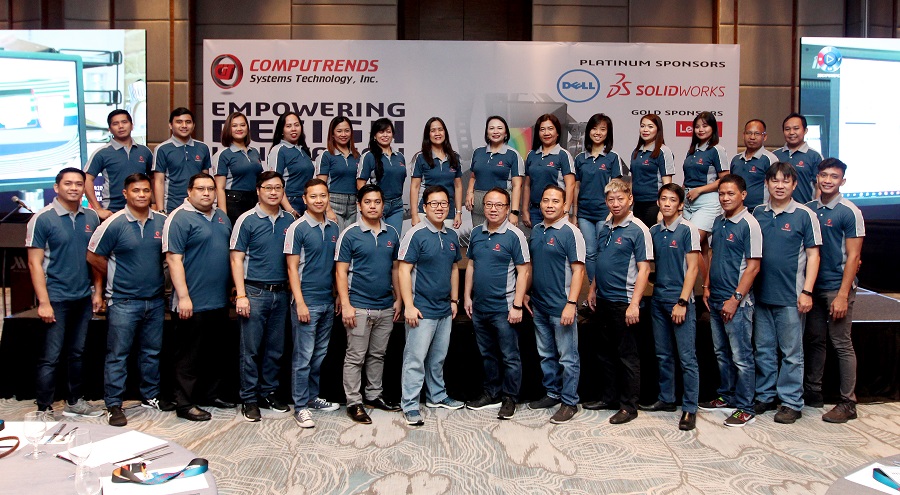 Computrends Systems Technology Inc. has been the trusted reseller of high quality personal computers, workstations and peripherals in the Philippines since 1991. Our steady success in dealership of these quality products has inspired us to take a leap to also address the growing needs of various industries for globally-acclaimed CAD, office, security and utility software. 

In year 2007, Computrends was appointed as Value-Added Reseller of premium CAD program SOLIDWORKS, by Dassault Systèmes, and is now devotedly serving the CAD needs of over thousands of users in the Philippines. We aim to go beyond just providing the competitive forms of technology. We extended our commitment to building technical skills of SOLIDWORKS users, by providing product trainings and certifications conducted by our certified applications engineers. 

While proudly making a stand as Asia's top value-added SOLIDWORKS reseller and provider of Highest Customer Satisfaction (2011), Computrends has now been catering CAD needs of numerous educational institutions and well-known companies coming from diverse industries. Since the advent of our service in the Philippine market, we have been continuously nurturing the trust of our clients by maintaining outstanding professional alliance and providing first-class after-sales support.

In year 2020, with our constant goal of innovation, we are now providing users with new experience and real-time collaboration through the 3DEXPERIENCE® Works portfolio. We strive to give our utmost capabilities in this ever changing technological evolution and sustain excellent partnership with our clients towards making breakthrough inventions. Let's connect and work "Together into the Future".

 

Certifications & Awards
Certified SOLIDWORKS Sales Professional
Certified SOLIDWORKS Solution Sales Professional
Certified SOLIDWORKS Marketing Professional
Certified SOLIDWORKS Associate - Simulation
Technology Educator Competency
Certified SOLIDWORKS Specialist - Mechanical Design
Certified Specialist - Simulation
Certified Specialist - Plastics
Certified Specialist - Composer
Certified Specialist - Technical Support Onboarding
Certified Specialist - Training Simulation 
Certified SOLIDWORKS Professional - Advanced Sheet Metal
Certified SOLIDWORKS Professional - Advanced Weldments
Certified SOLIDWORKS Professional - Advanced Mold Tools
Certified SOLIDWORKS Professional - Data Management
Certified Professional - Flow Simulation
Certified Enterprise PDM Administrator
Certified SOLIDWORKS Prospecting Specialist
Certified SOLIDWORKS Account Manager Expert
Certified SOLIDWORKS Associate - Mechanical Design
Certified Sustainable Design Associate
SOLIDWORKS Accredited Educator
Certified SOLIDWORKS Specialist - Electrical
Certified Specialist - Flow Simulation
Certified Specialist - Data Management
Certified Specialist - Inspection
Certified Specialist - Training Mechanical Design  
Certified SOLIDWORKS Professional - Mechanical Design
Certified SOLIDWORKS Professional - Advanced Surfacing
Certified SOLIDWORKS Professional - Advanced Drawing Tools
Certified SOLIDWORKS Professional - Simulation
Certified Simulation Professional - Advanced Motion
Certified Flow Simulation Professional - Electronic Cooling
Certified SOLIDWORKS Expert - Mechanical Design