SOLIDWORKS Simulation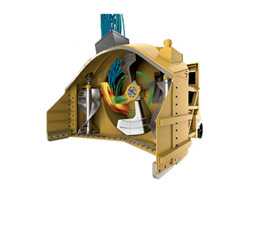 SOLIDWORKS Simulation Premium
SOLIDWORKS® Simulation Premium ensures product robustness using the range of powerful structural simulation capabilities. It goes beyond SOLIDWORKS Simulation Professional and includes additional tools for simulating nonlinear and dynamic response, dynamic loading, and composite materials.
SOLIDWORKS Flow Simulation
SOLIDWORKS® Flow Simulation intuitive Computational Fluid Dynamics (CFD) enables designers to simulate liquid and gas flow in real-world conditions, run "what if" scenarios, and efficiently analyze the effects of fluid flow, heat transfer, and related forces on immersed or surrounding components. Early in the design process, designers can easily simulate fluid flow, heat transfer, and fluid forces that are critical to the success of the design.
SOLIDWORKS Plastics
SOLIDWORKS® Plastics injection molding simulation predicts how melted plastic flows during the injection molding process— the manufacturing method used to produce over 80 percent of all plastics products. The ability to predict how the plastic will flow enables prediction of manufacturing-related defects. Additionally, SOLIDWORKS Plastics enables the prediction of part warpage and mold cooling optimization. Users can change part or mold geometry, processing conditions, or the plastic material to eliminate or minimize potential defects, saving energy, natural resources, time, and money.
SOLIDWORKS Sustainability
SOLIDWORKS® Sustainability performs real-time environmental assessments as part of your product design process. Fully integrated with your SOLIDWORKS design environment and using industry-standard lifecycle assessment criteria, SOLIDWORKS Sustainability provides instant feedback, so you can quickly make adjustments to your design, and turn your sustainability goals into results.
SOLIDWORKS® SIMULATION Product Matrix
Request a Quote
or contact us for inquiries.
Tel/Fax Nos: 88111548 / 88111550 / 88111576 / 88111614 / 88111552
Unit 110 MCS Tower, Makati Square Complex, 1299 Chino Roces Avenue, Makati City
Email: marketing@computrends.com.ph